Volleyball League
The sand volleyball season is just around the corner. Whether you are looking to play competitively or just have some fun, we have something for everybody Don't miss out on the fun with an awesome atmosphere of volleyball, friends, drinks and more!  Sand Volleyball leagues are offered every summer and fall. Adult Leagues provide a fun and engaging environment for players to come together and compete in a relaxed atmosphere.
Gather your friends and sign up today!
We are not taking sign-ups for the 2023 Summer League.
If you are interested in signing a team up, or looking to join a team please call us at 330-654-4100.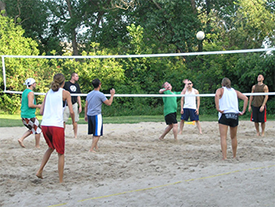 Summer Volleyball: May — July
MIXED ADULT TEAMS (OVER 21)
Min. 4 Players per team
Men, women and individuals welcome (21 and older only)
Weekday's